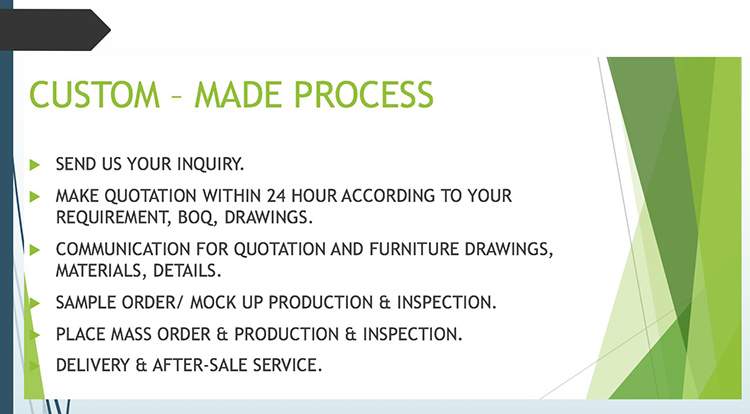 Hotel room furniture material:
1.For different kind of weather, should choose different type of solid wood frame. For normal weather area, solid rubber wood is OK. For wet weather, solid ash wood and birch wood is required. And solid oak timber wood also can be choose if budget acceptable.
2. Ebony wood veneer use a lot for furniture surface. And the cost of natural ebony and engineer ebony wood veneer are big different. You can according to your budget to decide which type to use. Red and golden shadow wood veneer are also a good choice for some special design furniture.
3. Linen fabric in UK standard fire proof, different color such green color, black color, yellow color for choose. Inner foam in 45 degree density seating, 40 degree foam density for arm, 35 degree foam for back, UK standard fire retardant if need. Fabric have velvet type for option.
4.Golden stainless steel for wardrobe handle, marble top for minibar. The stainless steel color can be change to rose golden color, black color, grey color or some other color. Marble have natural and artificial 2 type for choose.
5.No dust painting house, shining / high glossy / piano painting finish in top quality, red cherry color. Painting in 5 layer bottom paint and 3 layer paint on top.