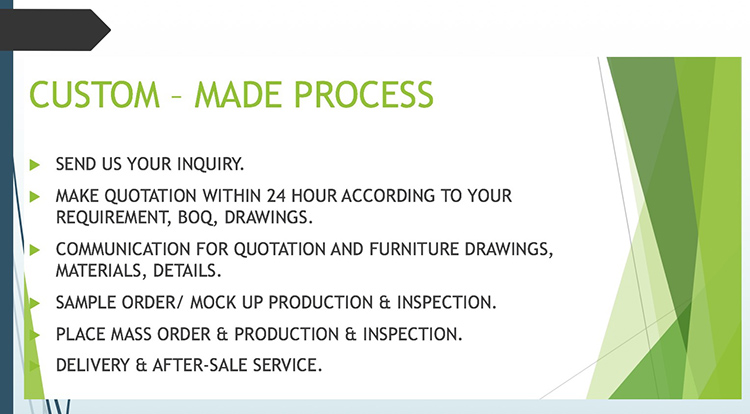 Hotel room furniture material:
1.Solid wood for inner and outside frame, content water rate below 12%. Not easy too crash. Wood type can choose, oak, rubber, birch, beech and so on. All exposed wood is consistent in color and quality..
2.The thickness of the wood veneer is 0.6mm, the wood veneer type is American white oak wood. Natural or artificial wood veneer type are available.
3.All the upholstery furniture color can be change, material outside can choose for fabric or PU leather. The fabric and PU leather color have a lot of choice. The density of the inner foam should be different for different part of the furniture. Usually chair seating will use the 45 degree foam, more durable, at least 3 years guarantee.
4.Natural marble in black color on the top, can be change to other kind of marble if need. Natural marble type have yingbailong marble, jueshibai marble, gumuwen marble for option.
5.Matt painting, open painting finished, wood grain can be touch, white oak color. Brand "Dabao", Taiwan enviromental-friendly painting brand for surface painting.